The Quiet Eye is a simple technique that, with a little practice, will save you up to 6 strokes per round!
Even if you're already a great putter, the Quiet Eye will help you to drain more putts, especially under pressure.
And the confidence that comes with making more putts will filter back through to the rest of your game – golf gets a whole lot easier, and more fun, when you know your putting is solid.
Once you have a basic competence in green reading, and your putting mechanics are passable, then great putting is all about touch and consistency – especially consistency of rhythm.
If you can practise, on your carpet at home or on a flat part of the putting green, and roll 9 out of 10 putts over a small coin 3 feet away, then your putting mechanics are sound.
So why do you sometimes miss from 3 feet in competition, or knock it 4 feet past the hole because you lose your distance control?
Because your brain is getting in your way!…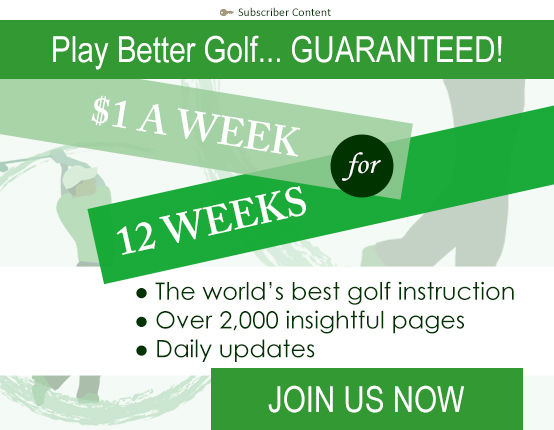 or Log In
…with the Quiet Eye, you won't miss because of pressure, anxiety, or "mental clutter".
Your rhythm, your touch (distance control) and consistency, will improve dramatically.  Your confidence will soar and your scores will plummet.
This drill forms part of the Golf Loopy Putt like a Champion series, the sensational new putting game improvement system that will help you to improve every aspect of your performance on the greens.  The improvements will be dramatic, and they will be permanent.