Introduction to the Swing like a Champion System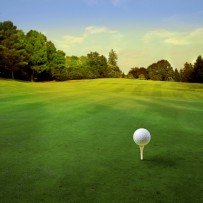 Swing Like a Champion is a proven system that gives you everything you need to build the golf swing of your dreams.
Golf Loopy revolutionises golf instruction, simplifies the way that golf is taught, and enables any golfer to make dramatic and lasting improvements to their golf swing quickly and easily.
This is a radically new approach to golf tuition, a complete golf swing learning system, born from objective science and designed around the way we all learn new movement patterns.
There are no gimmicks and no catches.  We won't try to sell you useless training gadgets or DVDs.  We won't bombard you with nonsense like weight-loss programs and dietary supplements.  And unlike every other golf instruction site, we won't offer you "tips", "secrets", and "quick fixes" that leave you floundering and searching for "it" again a week later.
The Swing Like a Champion system teaches you the simplest, the most powerful and efficient, and the most effective way to swing a golf club.
Swing Like a Champion is simple to follow, but it does require commitment and dedicated time and effort.  Our 8-Week Program promises you a great golf swing in 2 months by practising for just half an hour a day, 6 days a week, in the comfort of your own home.
If you are serious about improving your golf, this is a complete system that we guarantee will give you a great golf swing very quickly, lower your scores, and help you to enjoy the game more for the rest of your life.
And for golfers who want to play at the highest levels, Swing Like a Champion will put you on a lifelong path to true mastery of the golf swing.
Swing Like a Champion doesn't require any particular talent, fitness level or athletic ability, though it will enable you to get the very most from your body and your creativity.
In our trials with hundreds of golfers, from high handicap weekend-warriors to accomplished amateurs and aspiring tour professionals, the vast majority of golfers better than halved their handicaps in six months.
Swing Like a Champion describes the full swing.  It's aim is to put you in the middle of the fairway a long way out, enable you to hit straighter, more penetrating golf shots, and to attack the flag stick with your approach shots.  Other sections of this site will discuss the rest of the game, including putting, chipping, pitching, the sand game, trouble play, golf fitness, course management and the mental game.
Structure
Swing Like a Champion is based on three integrated parts;
the Swing Pattern,
the Swing System, and
the 8-Week Program.