Supine Pelvic Tilt Exercise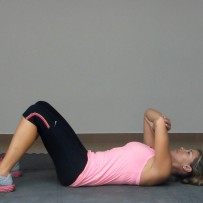 This exercise demonstrates the posterior pelvic tilt, which helps to strengthen the muscles in your lower abdominal spine and stabilise your lower back.
It will help you learn how to position your pelvis properly, which is important for good posture and in preventing back pain.
This is an easier version of the Posterior Pelvic Tilt exercise.
Figure 1. Supine Pelvic Tilt Exercise Video.
Steps
Start by lying on your back on a matted surface, your feet flat on the floor with your hips and knees bent to approximately 45 degrees.
Fold your arms in front of your chest, and relax your back.
Exhale as you pull your belly button back toward your spine, lifting your buttocks and pressing your lower back firmly against the floor.
Hold this position for 3 seconds.
Inhale as you return to the start position.
Reps
Complete 3 sets of 15 repetitions.
The quality and range of your motion is more important than the number of reps. If you struggle to complete 15 repetitions with proper form, then lower the number of repetitions to the most that you can perform with proper form, and do 3 sets of that number.
How Will It Benefit Your Golf Swing?
To build a great golf swing, you must learn how to move your pelvis into extension, flexion, and neutral postures.
Learning how to position your pelvis properly will enable you to keep your spine in a safer posture throughout the golf swing, and allow for better weight transfer to your lead leg (the left leg in a right-handed golfer) in the downswing.
Many golfers have a tendency to get stuck in an anterior tilt of the pelvis, causing too much curve in the lower back (known as hyperlordosis). This position places greater stress on the joints in the lower back, is often associated with lower back tightness or pain.
For more information on the perfect golf posture, see Full Swing 101 – Setup: Basic Posture and Full Swing 103 – Setup: The Perfect Golf Spine Angle.
Target Muscles
This exercise mainly involves your erector spinae, psoas major, rectus abdominis, and gluteus maximus.
Stay Ahead of the Game…
To get all of the latest golf instruction and other exclusive content from Golf Loopy delivered straight to your inbox, please subscribe to our newsletter:
This article, together with the complete Golf Loopy Perfect Swing, is published on this site totally free of charge. If you found this article helpful, please show your support by telling all of your friends about us. Thank you.
If you have any questions or comments about this or other articles on Golf Loopy, please send us an email.
You May Also Like…
There are a number of other mobility exercises in the Golf Loopy Golf Performance System.
Introduction to the Golf Loopy Perfect Swing.
Full Swing 101 – Setup: Basic Posture.
Full Swing 103 – Setup: The Perfect Golf Spine Angle.
Golf Anatomy and Kinesiology, a collection of articles describing the roles of the muscles involved in the golf swing.
>>> Table of Contents for the Golf Loopy Perfect Swing System.