Overview of a Great Golf Swing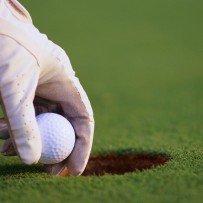 Swing Like a Champion is the simplest, the most powerful and efficient, and the most effective way to swing a golf club.
This isn't about "tips" or "quick fixes". We're not trying to apply band-aids and compensations to your current swing.
This is a radically new approach to golf tuition, a complete golf swing learning system, born from objective science and designed around the way we all learn new movement patterns.
Swing Like a Champion will quickly transform you into an efficient and powerful golfing machine, enabling you to hit the best golf shots of your life.
There is more to winning golf tournaments than having a great golf swing. To be the best you'll also need to work on putting, chipping, pitching, the sand game, trouble play, golf fitness, course management and the mental game, all of which will be discussed on this site. But Swing Like a Champion will put you further down the middle of the fairway, help you reach more greens in regulation, get closer to the pin with approach shots and be more consistent.
With easy to follow, precise and eye-opening instruction, we will teach you how to build the great golf swing you have always dreamed of.
You will quickly learn how to:
achieve a world class impact position that produces straighter, more powerful and more penetrating golf shots;
strike the golf ball cleanly, hitting down and through, making it hiss off the club face like the pros do;
lag the club head like the longest hitters in the game;
sequence your movements to preserve lag and generate the power of a tour pro;
release the club correctly, efficiently generating maximum club head speed at the right time and squaring the club face consistently through impact;
use your body correctly to generate more power safely and with less muscular effort, gaining more accuracy and consistency with less strain on the body;
build a simple, efficient, and repeatable swing that delivers maximum results and stands up under pressure;
use the laws of physics and biomechanics to your advantage, eliminating wild shots and generating effortless club head speed;
eliminate your bad habits and rapidly ingrain the correct movement pattern;
use advanced techniques to work the ball and control trajectory, hitting the golf ball high over trees or low under the wind, shaping draws and fades with ease.
The benefits will be dramatic:
you will hit the ball further, more accurately and more consistently than ever before;
your buddies will be in awe as you send the ball a long way down the middle of the fairway, time after time;
you'll hit beautiful, crisp iron shots, quickly gaining 2 clubs in distance;
you will be able to attack the flagstick like never before;
no more back pain or golf-related injury;
you'll make amazing improvements, fast, that will last you a lifetime;
your scores will tumble and you will enjoy your golf more than ever before.
What's more, Swing Like a Champion doesn't require any particular talent, fitness level or athletic ability, and you can practise in the comfort of your own home without any special equipment.
Because it is a complete golf swing learning system, Swing Like a Champion will support you throughout your golfing life. You will understand how the golf swing works, and have a framework of practice drills that will enable you to continually improve and refine your swing, avoiding bad habits and keeping you injury free.